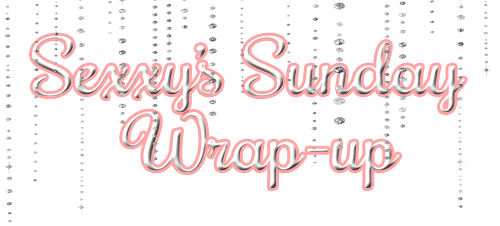 I'm not part of any Sunday memes, but of course my Wrap-up is inspired by many.
So this is my way of showing the salaciously sexxy happenings that went on this past week at Salacious Reads...
Welcome to another edition of my pasts weeks wrap~up...thank you for stopping through :)
I'm not going to post the Wibbitz Text-to-Video today. I encountered some blog problems Friday & and the video wasn't picking up my feeds properly. Hopefully all will fall into place next week.
What I Brought
I've seen both of these books around the blogosphere & they have been getting some pretty good reviews, so I thought I try them out..
Received To Review
NetGalley
The cover on NetGalley is what drew me to this one. And then I thought Jane Eyre written as Erotica? Hell..you know I couldn't pass that up..lol!
This pasts weeks happenings....
Tuesday Jams
Alpha-Males After Dark #3
Waiting on Wednesday (A Highland I want most)
Salacious Randomness - The Girl w/the Dragon Tatoo
**book & movie comparison and mini Graphic Novel review
ARC Review -
Seven Nights In A Rogue's Bed
Updated Cover Reveal -
Taryn Elliot's Ashes and Wine
1
8+ Book Blogger Follow (What BDSM is better than 50Shades?)
***
I also made a change to my
Review Policy
.
Winners from Giveaways that went on here at SR.
Blog Anniversary/CenterStage Giveaway
- Ning @ Reading By Kindle Fire
&
Kenya Wright's The Burning Bush Blog Tour
- Ana @ Beach Bum Reads
Upcoming Reviews ~
The Angel by Tiffany Reisz
Hear Me by Skye Warren
Undercover Submissive by Michelle Huges
The Burning Bush by Kenya Wright
**There will be more Book Reviews as well.
Books turned into a Movie ~ Summit's upcoming release of Alex Cross looks pretty damn exciting.
Alex Cross, a black FBI profiler is a very popular book series written by author John Patterson. I absolutely adore this series and I hope they do good job in capturing this wonderfully written character.
Tyler Perry & Matthew Fox ("Lost") are set to star in the new release.
**Remember when Morgan Freeman played Alex Cross in past movies?... When I found out that Tyler Perry was starring...I remember telling my niece that all I could see was Madea flying kicking someone..lol!!!