Published: November 20, 2012
Format: eBook (ARC)
**Provided by Publisher through NetGalley for an honest review
Series: Original Sinners #3



Rating

Available:
Barnes & Noble
/
Amazon
/
Book Depository
Blurb
Keep your friends close and your enemies closer...preferably in bed. That's always been Kingsley Edge's strategy with his associate, the notorious New York dominatrix Nora Sutherlin. But with Nora away in Kentucky, now it's Kingsley's chance to take her place at the feet of the only man he's ever wanted -- Søren, Nora's on-again, off-again lover -- until a new threat from an old enemy forces him to confront his past.
Wes Railey is still the object of Nora's tamest yet most maddening fantasies, and the one man she can't forget. He's young. He's wonderful. He's also thoroughbred royalty and she's in "his" world now. But Nora is no simpering Southern belle, and her dream of fitting into Wesley's world is perpetually at odds with her dear Søren's relentlessly seductive pull.
Two worlds of wealth and passion call to her and whichever one Nora chooses, it will be the hardest decision she will ever have to make... unless someone makes it for her....
My Thoughts
Well Tiffany Reisz...I'm have been officially mind fucked.
It's truly all I can say about this story. My feeling is that The Prince could have been either Wesley, Kingsley or Soren.
To explain or break down this story would totally take a good amount of time and well...we don't have "time" for that..lol! The twists, turns and oh soooo many revelations in The Prince was utterly astounding & a little shocking.
I knew that Soren and Kingsley had a past together...but whoa daddy, what a past. Oh the dirty little things that fall out of peoples closest...mmmmm..mmmmm.
It was hot and sexually violent. It was good to learn about the relationship between these two men, but I wept for both of them..especially Kingsley. Reading this story, you get an understanding of the man he now is.
While Kinglsey & Soren attempt to find out who is out to get Soren once again, Nora is now in Kentucky with Wesley and they are struggling to figure out their relationship. I love Wesley...I really do, but this kid is just that a kid and yes, he loves Nora and that's fine. But if you are going to love this woman, who in all sense of the word is all wild and uncontrollable, you have to deal with who she is and I just feel that he is attempting to change her. She's Nora Sutherland for Christ sake, why do you want to change that??! She is who you fell in love with correct? I don't know. Maybe they shouldn't be together, but that doesn't mean I want her for Soren either.
I think Nora is just a little too much for Wesley right now. Maybe when the kid gets a little older, they should "explore" this relationship they are trying to figure out. I miss the old Nora and I think she's getting a little lost in Wesley and his world.
The Prince is a total page turner and in my humble little opinion, Soren and Kingsley stole the goddamn show. I like Nora and Wesley's story, but shit those two vibrant men stole my breath..I COULD not get enough of them, whether they were together or apart. They stole me..utterly and completely, they stole me. If either of these men really did exist and IF I was into that world, I would sure as hell bow at their feet. Either wouldn't have to ask.
The ending of this book will have you yelling "What THE Fuck???!!"...well maybe not you, but I sure did. Good Gravy..so now I have to wait for The Mistress. I don't know if I can wait, I'm sitting on pins and goddamn needles here.
So yeah, If you want to be mind fucked like your girl here...then read The Prince. If you smoke, grab it..you're going to need it. If you drink..make sure the damn glass is somewhere close by, you'll need it. Tiffany Reisz, you are a tease..a wicked, bad little tease..but I love you anyway. Because you wrote the shit out of this story..yes girl you did.
Heat Level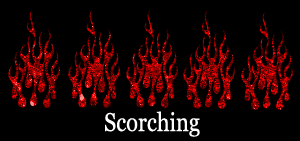 About Your Author
Tiffany Reisz lives in Lexington, Kentucky with her boyfriend (a reformed book reviewer) and two cats (one good, one evil). She graduated with a B.A. in English from Centre College in Danville, Kentucky is making both her parent and her professors proud by writing BDSM erotica under her real name. She has five peircings, one tattoo, and has been arrested twice.
When not under arrest, Tiffany enjoys Latin Dance, Latin Me and Latin Verbs. She dropped out of a conservative southern seminary in order to pursue her dream of becoming a smut peddler. Johnny Depp's aunt was her fourth grade teacher. Her first full-length novel The Siren was inspired by a desire to tie up actor Jason Isaacs (on paper). She hopes someday life with imitate are (in bed).
If she couldn't write, she would die.
Tiffany's Website
Tiffany's Blog
Tiffany's Twitter