Published: September 12, 2012
Format: eBook
**my personal copy
Series: Romantic Tales, Episode 1
Available:
Amazon
Blurb
Rating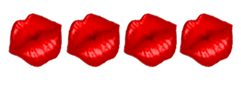 Published: October 27, 2012
Format: eBook
**my personal copy
Series: Romantic Tales, Episode 2
My Thoughts
These novella's give you little bit of everything. You have contemporary romance, sci-fi romance, erotica and a rock band that will make you howl at night. Bedtime Stories is broken into several books, but the same stories are going on in each one...hence the episodes. Each story is solid and very well written. I absolutely love how each author added a mix of paranormal, sci-fi, and of course family drama with their romances. The characters are very likable and there is enough of something going in these short and sexxy Romantic Tales; each episode will want you reading more every time it ends.
Your Authors
Riley Ross
,
Tigris Eden
and
Ty Langston