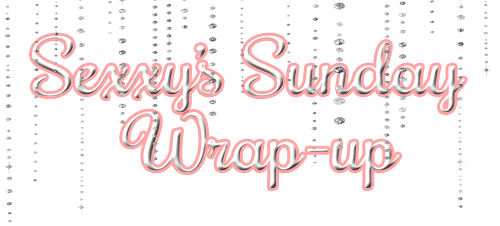 I'm not part of any Sunday memes, but of course my Wrap-up is inspired by many.
So this is my way of showing the salaciously sexxy happenings that went on this past week at Salacious Reads...
Welcome to another Sunday here at Salacious Reads...thanks for stopping through!
Blog Tour/One Night with a Night Hero by Laura Kaye (Review)
Talking Zombies #3 w/Ana & Me
Tuesday Jams (Another Lil Mix-Up)
Movie Review (Flight)
Tour/Giveaway ~ Jenna Jacobs interviews Daddy Drake
I also chose a winner in the
Men & Women of the Military Hop
...Condragulations (always wanted to say that after hearing it on RuPauls's Drag Race..lol) Karina. Enjoy!
I didn't buy anything this past week & I didn't receive any books for review. I'm going to actually stick to my guns and stay away from NetGalley/Edelweiss aaannnnd I really gonna try to not accept anymore review requests.
I also didn't get much reading done, but while getting my hair braided yesterday I was able to finish...
oooo....ooooo! It was helluva good. Now all I have to do is download esisode 1...because I have found out that the stories in these novellas
must
be read in order. *sigh* I knew I was missing something while reading.
So happy Sunday sexxy people...I'm going to hop myself over to Amazon & buy espisode 1 in the Romantic Tales novellas.
Lata Days!