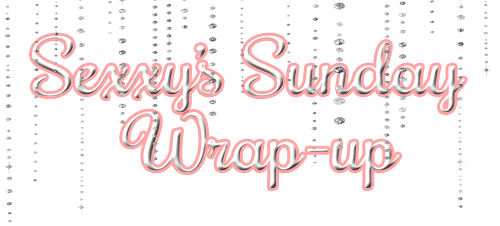 I'm not part of any Sunday memes, but of course my Wrap-up is inspired by many.
So this is my way of showing the salaciously sexxy happenings that went on this past week at Salacious Reads...
Welcome to another Sunday here at Salacious Reads...thanks for stopping through!
Let's start with the
Wibbitz
Text-to-Video
What I Brought
NOOK Books
Amazon Kindle Cloud Reader
Every book listed above is .99 cents at either B&N or Amazon. I would suggest snatching them up quickly. Again there is a nice sale going on for BDSM/Erotica books, the image is on my sidebar, but you can also visit Skye Warren's
website
for the list of books & a chance to win a $25 gift card...the sales goes on until Nov. 13th.
What I Coveted for Review
**All thru NetGalley
**Blog News**
Did you catch the Talking Zombies post I did w/Ana from
Beach Bum Reads
? If you didn't, the link is
HERE
. It was so much fun!! hope you sexxy folks catch our upcoming post after this Sunday's episode..if you want to join in...let your girls know ;) AND don't forget to take the survey at the end of the post!
I had some winners from a couple of Giveaways I had going on here at Salacious Reads.
CenterStage Giveaway
/Kallypso Masters was the author of the Month. Neyra Ms.
Darkest Addictions
won Books 2 & 3 in her Rescue Me series.
Wicked After Dark Blog Hop
. Congrats goes to Krista, she won an $10 Amazon eGift card.
Congrats to the winners!
I got some good prize winning news myself ;)
Shabby Apple, which is an affiliate here at SR had a contest via there
Tumblr
page where you could have won the dress below, so I entered.
I didn't win :( buuuttt, they did give me a $10 off coupoon along w/Free shipping for just entering :)...I'll take that too. So thank you Shabby Apple!
Amanda over at
Paranormal Romance
had a pretty cool giveaway going on. I love V.C. Andrews...remember her book Flowers in the Attic? Well, she has a new book out & I won it! so thanks Amanda! I can't wait to read that one ;)
**Update: I also won a $10 Amazon eGift card from
Author Rachel Firasek
thru a giveaway hosted by Nikki over at
Close Encounters of the Night Kind
,thank you both, you wonderful ladies!
Are you on Pintrest? I'm there now...still getting use to it, but if you like to follow me, I'll follow you back. My board is
HERE
.
Google & their damn products...*sigh* So you know how you can save an images to the background of Google's search site, well that is going away on November 16th. Below is the lovely message I received when I went to search for something...
Background images are going away on November 16, 2012
Thank you for using background images. As we build a more streamlined Google Search page for everyone, we'll no longer be able to support customization with background images. So you will no longer be able to see your background pictures starting November 16, 2012.
Click Remove to stop using a background image now. Your current background image and Picasa web albums will still be available to you.
Really Google? you are so seriously working my nerves right now. What else will be taking away...huh? *grumbles & walks away*
Have a great Sunday folks, I'm gonna to finish reading & my posts will probably be spotty as well. I'm live in Jersey & I work in NYC, so the clean up w/Hurricane Sandy is still going on. I haven't been to work in a week because the building I work in lost power. As of today, it just came back on.
I didn't loose power & thank God, I still have a roof over my head. My cell phone service is still spotty, but I'm still here and I'm very thankful for that. So many people lost everything...If you would like to Donate towards the relief efforts, the link for the Salvation Army is
HERE
.
**update: Crystal over at
Reading Between the Wines
has wonderful way for bloggers to help as well w/Hurricane Sandy relief...Books for Sandy. If you wish to help, click on the pic icon & it will take you directly to the form.