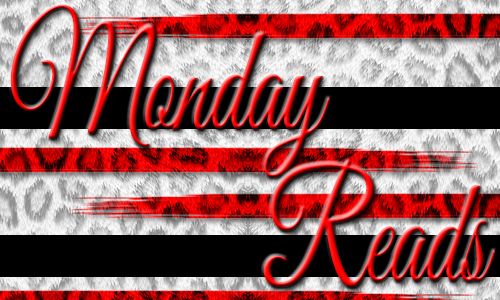 Welcome to Monday Reads, hosted here at Salacious Reads.
Monday Reads is a meme will be dedicated to the book or books I'm starting and/or finishing for the upcoming week.
Want to share what you're reading or finished? Comment below or create your own post. Your book can be a salaciously sexy book or a book with sweetness dripping from it's pages. Share a blurb, paragraph or sentence and then let us know why you picked that particular book. You can grab the graphic here or make you own!
Happy Monday Sexxy People!
Here's what I'll be reading...
Wild About You by Kerryelyn Sparks
Handsome Howard . . .
Hunky Howard . . .
Hot Howard . . .
It's not every day that Elsa Bjornberg feels delicate, not when she hosts a home renovation show where she can effortlessly demolish a kitchen. But from the moment she meets Howard Barr, this bear of a man makes her feel like a woman. And the way he looks at her, as if she were a pot of honey he'd like to lick . . .
Howard is not like most men. For one thing, he's a shapeshifter. And he always thought his celebrity crush would never amount to anything more than drooling at Elsa on TV. When his meddling vampire employer gets involved, the star is suddenly within his grasp—and within a hair of her life. For an ancient curse forbids their newfound love, and Howard is suddenly torn between his desire for her and his desire to keep her alive.
Savage (Book 1) by Shelli Stevens
Being the daughter of a world-renowned scientist, Sienna Peters has struggled to carve out her own career in the field. But her world is sent spinning when she discovers a secret species being held in the lab where she works, and the horrible things being done to them. Compelled to do more than hand off an information-packed jump drive to her father, she sets out to free the creatures.
The minute his team enters the compound, federal agent Warrick Donovan knows their mission will have more trouble than they bargained on. Unfortunately, trouble comes in the form of Sienna Peters, the younger sister of his close friend. Now not only does he need to save her pretty ass, he needs to discover just how involved she is with the imprisonment of the shifters.
Sienna knows she should trust no one—not even the man she might still love. But as the danger escalates and past passion ignites, her heart has other ideas. Even when the shroud of mystery is ripped off more than one stunning truth…
Warning: Must love alpha males, be intrigued by federal agents who may or may not shift into wolves, and most importantly be prepared for intense action of the dangerous and sexual kind.
Club Shadowlands by Cherise Sinclair
Her car disabled during a tropical storm, Jessica Randall discovers the isolated house where she's sheltering is a private bondage club. At first shocked, she soon becomes aroused watching the interactions between the Doms and their subs. But she's a professional woman--an accountant--and surely isn't a submissive...is she? Master Z hasn't been so attracted to a woman in years. But the little sub who has wandered into his club intrigues him. She's intelligent. Reserved. Conservative. After he discovers her interest in BDSM, he can't resist tying her up and unleashing the passion she hides within. Publisher's Note: This book contains explicit sexual content, graphic language, and situations that some readers may find objectionable: Anal play/intercourse, strong BDSM theme and content (including/not limited to bondage, caning, restraints, spanking, etc), exhibitionism, voyeurism.