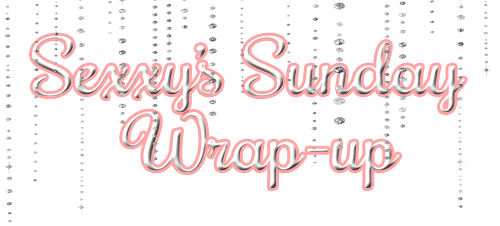 I'm not part of any Sunday memes, but of course my Wrap-up is inspired by many.
So this is my way of showing the salaciously sexxy happenings that went on this past week at Salacious Reads...
It's been 2 weekends since I posted. But I'm not going to post those missed weeks...it would be just too much. I'll just post the books I brought, received for review or won.
This past weeks posts (if you missed any..)
Cover Reveal & Release Day ~ Stacey Kennedy's The Cat's Meow
Movie Review ~ Skyfall 007
Virtual Book Tour/Review - Eternity by Tmonique Stephens
Cover Reveal ~ Carrie Ann Ryan's Her Lucky Love
Tuesday Jams ~ Christmas Songs (Week 3)
Bonnie Bliss's Book Blitz
Virtual Book Tour~ Review/Giveaway - I Want That One by Paige Roberts
What I brought
FREEBIE's
See I wasn't so bad the past couple of weeks...barely any new book buys or freebie downloads. I've also been staying away for NetGalley & Edelweiss...I feel pretty damn good!
I chose a winner for the
Kinky Candy Cane Hop
(just did it today :) Congrats RubySwan, I'll be emailing you shortly!
a Rafflecopter giveaway
Oh! I almost forgot...I joined the
Naughty or Nice Christmas Card Exchange
over at
Close Encounters of the Night Kind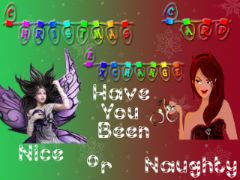 Thank you to everyone who sent me a Card...
Nikki @
Close Encounters of the Night Kind
Author
Susan Griscom
.thank you for the Book Mark!
I also received a sexxy card (I think the BF hide it from me) & book mark (pictured here) from another author..for the life of me I can't remember her name, but thank you so much...it's really pretty. The name on it is Dragons Mate.
Shoot! I also won the Sexy & Damned Giveaway over at
Darkest Addictions
book blog..I chose the first book in Diane Thorne's series The Deadly Stripper...thank you ladies!
***Updated
~ okay here's a pic of the other card I received from Beverly Ovalle
Well, I'm not sure if I'll be posting in the next couple of Days. So I wish you & your family a very Happy Holiday!
MUAH!