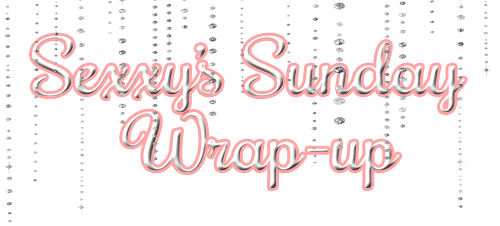 I'm not part of any Sunday memes, but of course my Wrap-up is inspired by many.
So this is my way of showing the salaciously sexxy happenings that went on this past week at Salacious Reads...
What I Coveted
Lisa Renee Jones book was Pre-Ordered as it's not available until Monday
Freebies Coveted
Review Covets
This past week's posts
Review ~ Break Out by Nina Croft
Monday Reads
(meme)
Excerpt Tour/Giveaway ~ See Me by Natalie Nicole Bates
(Giveaway Over)
Tuesday Jams
Blog Barrage/Giveaway ~ Gabrielle Bisset's Blood Betrayed
(ends in 3 days)
Guest Post/Review - Test Shot by Cari Quinn
Blog Barrage/Giveaway ~ Diane Thorne's Destine for Love
(ends in 3 days)
Review ~ Embracing My Submission by Jenna Jacob
18+ Over Book Blogger Follow
Salacious Randomness #2
Guest Post/Review ~ The Kinky Truth: Star of Wonder by Angel Payne
Review ~ Escape by Kenya Wright
It was a busy week here at SR & I actually got my posts out and up on time...I love that I did that, lols. Well, happy Sunday sexxy people, enjoy the rest of your weekend!
okay...this is "squee!" worthy & I don't do that often..anyways, the cover was released for the 6th book in Elisabeth Naughton's Eternal Guardian Series...Titus's book is coming out..he's my 2nd favorite (Demetrius is my 1st)...
oh lawd...I think I just slobbed a little..LMAOOOO!!!! But good gravy that is one hot cover! Now all I need is the exact date in March this sucka will be out.
Lata Days...MUAH~