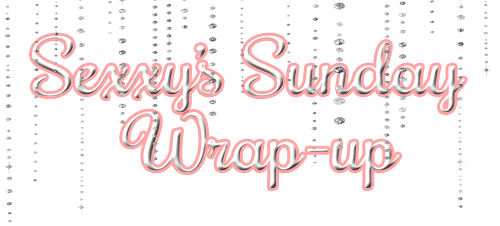 I'm not part of any Sunday memes, but of course my Wrap-up is inspired by many.
So this is my way of showing the salaciously sexxy happenings that went on this past week at Salacious Reads...
Hey Sexxy's!
What a weekend! my post is late, but I had a long night. After celebrating the Mr. Man's birthday..getting up and about was quite hard to do.
Here's what went on last week...
Monday Reads
TRB Knockout Pile #1
Skye Warren's Naughty New Years Blog Hop
(ongoing event..but it ends tonight!)
Waiting on Wednesday
Salacious Randomness
What I Brought
I love Nalini Singh's take on Angels & Vampires....they're all so sexxy and deadly at the same time. Here we get a glimpse into Jessayme's & Galen's relationship. Catch my review tomorrow.
There will also be a review of Stacey Kennedy's The Cat's Meow...I also asked her some fun This & That questions....there will also be a giveaway!
I'll also have an upcoming review of Blue Valentine, a movie I watched through Netflix. I'll be reviewing some of the movies I watched through them...I'm also thinking of making it a weekly or bi-weekly theme here at SR.
I saw this post over at
Proserpine Craving Books
blog (a favorite of mines to stop by) and thought "omg...this is so me"...lol! so I made the pledge. Hosted by
I

n Between Writing & Reading

,
it's a pledge to read at least 5 books in your TBR pile before buying another book. I think I can stick with it...I hope. Anyway's if you think you're also addicted..lmbo! hop on over the In Between blog & make the pledge too.
Have a great Sunday
lata Days...MUAH!