Hello Sexxy People and welcome to Salacious Reads stop in the Vampires for V-Day Hop. This lovely hop is hosted by
Felicity Heaton
,
Caris Roane
and
H. D. Thomson
.
Now..what are we celebrating here? Vampires & Valentines Day. I'm a vamp girl at heart, ever since reading Anne Rice's Vampire Chronicles..I've been hooked. The types of Vamps this gal right here likes...hmmmm, well if you must ask (I know you didn't, but I'm gonna tell you anyways...lols).
I like mines a lil scary, toss in a major ass kicker with vicious on the side, and he also has a soft side to him...so much so, you always seem to forget that he's a predator..a killer and possibly a lil nuts. You still despite all this...want to get "busy" with him anyway, LMBO! (see examples below...)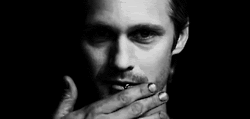 **images from Fanpop.com & photobucket
Sorry Edward...I don't like my vamps sparkly, nor too
teenagery
looking. I can be a cougar, but I don't wanna be breast feeding my lovers, thank you very much...lols.
I totally forgot about the Valentines part of this post.
Since there are some love letters going around the blog-o-sphere this week..
Reading Between the Wines Book Club
&
Vampire Book Club
are just some of the blogs doing this. I decided to write a love letter to my favorite vamp, Eric Northman who so perfectly embodied in Alexander Skarsgard.
Yes I know Alexander is just the actor who plays you in a TV show, but I believe he fits you to the "T"…no? Anyways, I just wanted to say that I'm not just some love-sick admire…well maybe I am, but that's besides the point. I want you to know that if you were truly here in this life, I would surely make my way to hillbilly Bon Temps and convince you to take…I mean make me.
I would be a much better lover for you than that Sookie chick and her fairy vagina…uhh, these are not my words, but Pam's..you know your bestie...sometimes lover?
I wouldn't be all hot and cold with you. You would have me anytime you want. I more than like would even sleep in your coffin with you during the day…too much? Maybe, but this only shows my absolute love and desire for you. You wouldn't have to worry about me being so scared of you..well maybe a little. I'm also a little more sophisticated…albeit I can be a lil hood at times, but pssst…I do know how to clean up though should you decide to take me out and show me off. But I'm sure you wouldn't mind, being as old as you are… you've probably have had plenty a woman. Let's leave that out…I'm getting a jealous now.
To close Mr. Northman, I just wanted to let you know that you are the only vamp for me. I don't care anything at all about your past or who you've murdered (they more than likely deserved it anyhow) I'll take you, keep you and take such good care of you. So good I would be, you would definitely forget about that girl in Bon Temps.
So there… I've laid my cards on the table. Would you take the deal? I sure wish you would.
Your future lover
Sharonda (SexxyBlogger)
I'll be gifting ONE of the 3 books (eBook ~ NOOK or Kindle), winner's choice. The vamps in these books embodied "book wise" what I would be looking for if Vamps existed.
Just enter the rafflecopter below & answer this question in the comments section.



How do you like your Vamps?

Are you like Bella? and like your vamps young with sparkles? OR do you like your vamps a lil rough around the edges like Conrad?...maybe a freaky like Vishous? or maybe he's like Lestat and a lil physco?
a Rafflecopter giveaway
Make sure you stop by the other Blogs in this hop for more great prizes.
Good Luck!
Lata Days..MUAH~