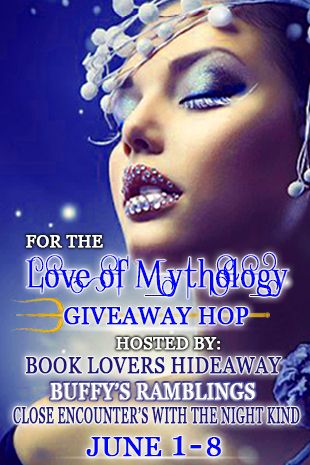 Sorry...my post is like very very late! It was a crazy weekend & I totally forgot to put this one up. Anyways, this hop is celebrating all things Mythological! and it hosted by
Book Lovers Hideaway
,
Buffy's Ramblings
, and
Close Encounters with the Night Kind
.
I'll be gifting one eCopy of Elisabeth Naughton's Bound.
*warning: This is the 6th book in the Eternal Guardians series. If you have not read the rest of the books, I suggest you do!

TITUS—To most his gift seems like a blessing, but for him it's a curse the other Eternal Guardians—those who protect the mortal realm from threats of the Underworld—seek to exploit. One he would gladly trade for the chance to be free…

Obsessed. Her touch is like a drug. From the moment he met her, Titus knew she was different. Even dangerous. Yet though his guardian brethren are convinced Natasa is working for Hades, Titus can't stop thinking about her. Can't stop fantasizing about her. Can't stop craving the one thing he knows could lead to the downfall of his world.

Possessed. Faced with stopping Natasa or joining in her quest, Titus falls to temptation and is thrust into a world of lust, deception, and deadly treachery designed by the gods. Her touch—only hers—frees him from his bonds, but desire may just condemn him. Because before the end he'll have to decide which is more important: duty and honor to those he took an oath to defend, or a woman who could very well be the biggest curse to them all.
a Rafflecopter giveaway
There is also a Grand prize Giveaway:
a Rafflecopter giveaway
To Link back to the other Blogs in this hop...go
HERE
!