Published: January 13, 2013
Sugar & Spice Press
Series: Pack Ruelz #1
Blurb
Sex: R - Strong Sexual Content
Source: Purchased (NOOKBook)
Authors Website
Available:
B&N
/
Amazon
Genre:



Hi Twitches! Happy Friday! Oh gawd…thank good gravy the weekend is almost here.
So…um, I have a review for you sexy gals/guys (if there are any actual guys following…hmmmm) Now this book is a novella...it was wasn't a short, but it was short *snort*. What was the name of this book?
Scar
. Yup…
Scar
. And what did I like about
Scar
? errthang! And when I say errthang…I do mean errthang.
This is a interracial romance folks. She's black…he's white...yah know. He's a werewolf…she's human and oh yeah, home girl is a stripper. *in my T-Pain voice* "oh…I'm in love with/a stripper…stripper"..lols.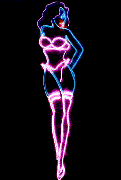 Okay, *serious face* back to my review. Scar was a mean mofo…he wasn't nice at all, BUT once he got a sniff of my girl Fre (short for Nefertiti) AND she smelled good…like errbody wanted to get up in that good, he knew she was meant to be his mate.
Listen up lovelies, these wolves were not your soft ass Twilight wolves...they were some mean dudes. I mean like "yo dad…back up off my chick or I'm going to bite da shit outta of yo ass" mean. Yes, Scar did snap at his dad for smiling at Fre. They were not to be played with…aggressive is the word here. I wasn't mad at all, hell I even liked it.
Alright, to give you a taste without giving it all up. Fre, comes across of puppy whom she thinks some jackass just left in their car (on a cold ass night!) so she breaks the window & saves little dude. Lo and behold…this puppy is actually a baby were who was kidnapped and his daddy is one pissed off angry big ass were and that ladies is where this story takes the hell off.
So yeah…Scar is a jackass, but he is Alpha of his pack, he IS supposed to be a mean mutha. I like Scar, his pack knew not to fuck with this dude AT all unless it was a emergency. And Fre, she was tough…she didn't pull no punches and yeah she was a lil scared when she found out that werewolves existed, but she sure was not afraid to "bust a cap in a werewolf's ass" when threatened. I'm sorry, but I love when slang is used in books…lols.
Scar
was short, sweet and erotic as all get out. Scar & Fre hooked up pretty dang on quickly, but it's a
novella
and I will say that I'm not a fan of insta-love BUT in all honestly, if the story isn't that long then yeah, the romance has to develop quickly #justsaying. Now if we talking over 200 pages and the couple is all goo-goo eyed by page ten, then yeah we might have a problem.
The sex…Now okay, listen. I'm all for any kind of bed play, but when *looks around the blog-o-sphere* all the prudes are gone *checks again and then continues with writing*. Now when you about to choke a ho'… uh, let a ho' know! Don't be trying that crap & don't warn
me
*coughs* I mean Fre. But she liked it…hell, when he asked if she wanted it done again, she was like yes (can we say freak?!). At least he did ask if she wanted it to be done again so I can't even be mad at dude. And then *looks around again* when he mated with her the first time, he kind of got stuck to her...like you know how dogs get stuck together after do the "do" o_O.
Omg, I didn't know if to be repulsed or what...but damn if I didn't bark out a laugh when I read the scene. I was like oh shit...no he did not just do that. It was very animalistic *looks around again and whispers* I think I liked it..lmbo! Good lawd, I need help, lols.
All and all, Scar was short, funny and sexy as all get out. My wolves were actually wolves...the hero and heroine were kick ass and the story melded pretty damn well together. Would I recommend it? Yes. Pick up
Scar
, I thinks you will like it.
Now I'm off to buy book 2. I'll let you know what I think, but I feel its going to be a damn doozy. Put a bear shifter and trigger happy female together and what do you get? I don't know, which is why I'm reading Kuma..lols!