Stand-Alone:
yes
Series:
A Southern Gentleman, Book 2
Publication Date:
October 8, 2019
Genre:
Contemporary Romance
Heat Level:
Sensual
I never meant to fall in love. I thought Avery would be a good distraction...a way to mend my broken heart. But the moment she sat next to me, I knew she was the one. Now all I have to do is keep my celibacy vow until our wedding night. Avery said she understands my vow, but that hasn't stopped her from trying to seduce me. God help me make it to the wedding."

Billionaire Businessman Jeremiah Logan went to New York to buy a company and nurse a broken heart. Instead of getting a company, he gained an ally, a business partner and the heart of the most eligible socialite in Manhattan.
When it came to love, Avery Marshall assumed the best she could hope for was a marriage of convenience with a man who only wanted her money and social connections. But one night in a New York bar, with a charming southern gentleman gave her hope for a happy ending.
Before they can get the relationship they desire, they will need to deal with the ghosts of their pasts.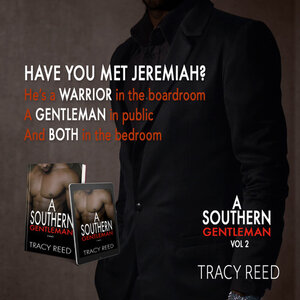 Giveaway
Win a Swag Box from Tracy Reed including:
A Southern Gentleman Vol One
A Southern Gentleman Vol Two
Kate Spade pouch
Swag (buttons, bookmarks, magnet)
$50 gift certificate to The Pink Duchess
Just share, re-tweet or post this graphic October 14-21, 2019 using the hashtag #ASouthernGentleman and tagging @ReadTracyReed on Facebook, Twitter or Instagram, and be registered to win!
Must be 18 and older to enter
Your Author
A California native, novelist Tracy Reed pushes the boundaries of her Christian foundation with her sometimes racy and often fiery tales.
After years of living in the Big Apple, this self proclaimed New Yorker draws from the city's imagination, intrigue, and inspiration to cultivate characters and plot lines who breathe life to the words on every page.
Tracy's passion for beautiful fashion and beautiful men direct her vivid creative power towards not only novels, but short stories, poetry, and podcasts. With something for every attention span.
Tracy Reed's ability to capture an audience is u

nmatched. Her body of work has been described as a host of stimulating adventures and invigorating expression.