Published: December 7, 2018
Self-Published
Format: eBook (Kindle)
Genre: Paranormal Romance
Series: Wolves of West Texas
Available:
BN
|
Amazon
Add it on
Goodreads
You know what? I'm going to say it, paranormal romance can be tired and through.
BUT popping up are authors such as Chencia C. Higgins. Coming in and changing the game on the girls…they about to be shook! I was.

Wolves of West Texas
tells us the stories of a pretty much all black wolf pack. Hell-the-fuck-Yes! The first book in the series
Janine: His True Alpha
,
we have Janine and Langston.
Janine pretty much grew up in a cultish type of pack. She has gone along with their shit for years but when they propose a marriage she's not trying to get down with. She was like you know what? No. And homegirl left. Packed her shit and was like no ma'am, no sir. She has been to Madow before, the wolves there didn't act like the wolves back home. There was an inviting atmosphere. While in Madow, she becomes fast friends with Lenny (short for Lenora) and then she meets Langston...Lenora's twin brother and now Alpha of the Madow pack. And honnneeeyyyy, when her wolf gets a sniff of his wolf…whew!
Langston is still dealing with the lost of his father and taking on the role of Alpha. Last thing he his thinking about is a mate but Janine is different. His wolf also sits up and takes notice. His wolf who has been a little depressed since the death of his father sits tf up when he and Janine initially meet. Langston pretty much has an idea why but again what I said earlier, he isn't particularly in the head-space. Also, he notices that below the meekness that Janine seems to exert on face, there is something sitting below the surface ready to break free. And he is interested …. really interested.
Oh, I did enjoy this story! Janine was so different because she is an Alpha too and she discovers this as she is discovering herself after being in such a stifling place previously. She's learning things about herself, her new world and Langston who will soon be her True Alpha. This was such a good telling of black love in a paranormal setting. I think Janine and Langston had great chemistry together. And Langton was another example of a dude being on his grown man. Dude was going through his shit but he once he realized that Janine was an alpha too, he just sat back and let what was supposed to happen naturally happen.
What I tell ya'll before: Growth.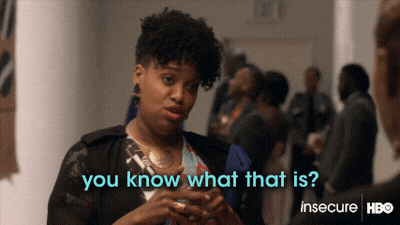 *Yall gonna get tired of me using this gif, lols.
What really got me in this story is the history of the land that Langston's pack currently thrive on. The land was in his family for generations. His great-great grandmother was an enslaved woman and was given the land by the man who was her enslaver and father of her children. Langston's family worked the land and prospered, it was an inspiring section of the story to read.
Listen, this was a good read! the characters, the world, the sex! And Ms. Higgins gets this story done in a short amount of pages without skimping on the story. My only issue was or is: where the hell is Janine's daddy?

We are now two books in the Wolves of West Texas series, and I need to pop my ass over to Amazon and get the second book.