Published: June 28, 2020
Love Africa Press
Series: Enders (1)
Genre: Contemporary Romance
Available:
BN
|
Amazon
|
Publisher
Add it on
Goodreads
The way this story read was disjointed. I have no problem with insta-love stories, it's just for me...the circumstances revolving around said love has to make sense. That said, the circumstances surrounding Duke and Carla didn't. This could also play into how all over the place I felt this story read.
Also, Carla was such a child. It's hard to believe that such a man as Duke would fall for her. I got she lost a parent and yes her Father and brother were complete and total assholes but good gravy, I didn't...no couldn't like her. And yes, she's 24 and listen we all do AND say stupid things in our 20's...I have stories BUT Carla was the daughter of a mob boss and the way she was moving. Girl. I guess spoiled mafia princess was the perfect title for her.
Me every time Carla was on page: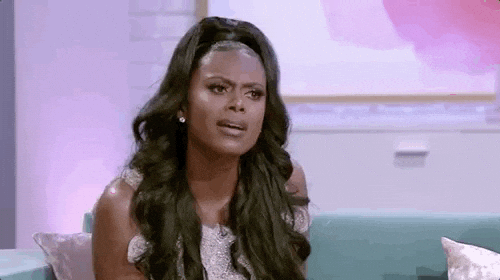 The romance wasn't something that I wanted to see happen because I didn't believe in it. The suspense read as a last minute effort to add something to this story. For me, there were too many things going on with the plot and it's development. It felt rushed. It read like parts of the story was moving and then boom, we were thrown off by another story plot. Duke probably would have benefited from being full length.

Don't get me wrong, there are parts of Duke to like but this wasn't my best Kiru Taye story. Maybe the next one will be better.
Three 💜 rating via Goodreads.
Find me out here in these eStreets: