To Be Published: September 1, 2020
William Morrow/HaperCollins
Series: No
Genre: Thriller, Romance
Available: BN | Amazon | Publisher
Add it on Goodreads


*This is a ARC Review




For the most part, I thought When No One is Watching was good. Here are my pros and cons.
The saving grace for this book are the characters themselves. Sydney struggling to get her footing while her mother is no longer close to her was palpable to read on page. This thing...that "strong Black woman" trope that happens in real life and in books have to die. I enjoyed how the author let us see Sydney wrestle with how she felt life was treating her, how she questioned herself and her handling of the things that were going on around her...past and present. Black women deserve to be seen as human, people who suffer just as much as the next person. Kudos to Mrs. Cole for that.
Oh and the situation with Sydney's mother... I did not see THAT coming. I was *insert a shooketh gif of your choice*.
I have thoughts about Theo but if I'm being honest. He is a white man, he was going to be okay throughout this story despite his issues but I did like his growth on page. Him recognizing that the Black neighborhood and the people that lived there before him and darth Becky were idk...human wasn't impressive to me. It's something white people still need to understand to this second but again...growth.
Mostly, Sydney was it for me...sorry not sorry to Theo.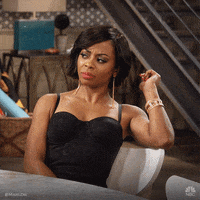 The side characters in No One is Watching were gems as well. The older neighbors were a blessing. Sydney's mothers friends telling her and Theo the history of Brooklyn...and New York itself, its treatment of Black and Brown people to this minute is still nefarious. In short, listen to your elders. They know what they're talking about.
Another saving grace here is the research into history itself. We've seen this current rise of interest in Black history. The violence Black and Brown people in this Country have faced because white people want something that was never theirs in the first place….land. That pull yourself up by the bootstrap mentality is bullshit especially when the majority keep taking the boots.
Gentrification is a ugly beast and sooner than later, it's not going to just affect Black people and POC. Something the author touches upon in her epilogue.
Now, here is my issue with When No One is Watching. The pacing of the story in general is slow, like super slow. Nothing truly happens until 70-80% of the book. Honestly, the author took too long to get to the goodness. I'm not going to lie, I was a bit bored throughout the read at times. Don't get me wrong, there are some good eggs during the telling of this tale...but good gravy, I needed a bit more action early on. Here is the thing, the balance between the romance and thriller of this book didn't coincide well. We either got too much or too little of both..or at times, nothing at all. It wasn't a good balance. You know that old saying when you come across a good ass dish and folk say "oh, they put their foot in this!" Well, the foot was missing in the mix here. It's the authors first, so I'll grant her a bit of leeway.
At the end of it all. I like When No One is Watching. It hit my thriller sweet spot just a lil bit and my romance sweet spot was a tad disappointed but it's a good read.
*Thank you to the publisher for the opportunity to read/review.